There is a group of people who meet occasionally and share information to become better informed about Indigenous matters, especially surrounding the topic of land and land use. This page will feature and share related news articles, videos and book recommendations as well as highlight group meetings or events of interest.
NEXT EVENT:
Upcoming Meetings:
Wednesday @ 7pm in the Church Conference Room
October 18, November 15, and December 20
To receive news and information about the group, please subscribe.

The following link goes to an article titled, "Canada Has A Lot of Unpaid Bills" by Aya Dufour.
The following link is an article titled, "A Spiritual Bond with the land – 'Homeland' by Santee Smith of Six Nations evokes yearning and life-sustaining force"
The Vatican has formally repudiated the 15th-century Doctrine of Discovery. Watch the full video news story at the link below.
Dec. 16, 2022
Bill C-92: An Act respecting First Nations, Inuit and Métis children, youth and families receives Royal Assent. First Nation Child and Family Services Program, which makes progress on six points of action, from the Truth and Reconciliation Commission. We are not there, but we are making progress.
There is a link below to the website indigenouswatchdog.org which we can follow to see what is currently happening.
The following link gives information about an issue happening in Ontario – mining in the "Ring of Fire" area in north west Ontario.
The following link is to the website of an indigenous scholar, activist and educator. There is a link on this page to a TED talk that she delivered in 2019 – (*since this TED talk was delivered in March 2019 the number of Indigenous communities without safe drinking water has come down to 31)
"A B.C. First Nation and provincial government have signed what's being called a historic agreement towards jointly managing land, water and resource development." Read more by following the link.
"In The Land Is Not Empty, author Sarah Augustine unpacks the harm of the Doctrine of Discovery—a set of laws rooted in the fifteenth century that gave Christian governments the moral and legal right to seize lands they "discovered" despite those lands already being populated by indigenous peoples."
​
"What was done in the name of Christ must be undone in the name of Christ, the author claims. The good news of Jesus means there is still hope for the righting of wrongs. Right relationship with God, others, and the earth requires no less."
excerpt from MennoMedia.com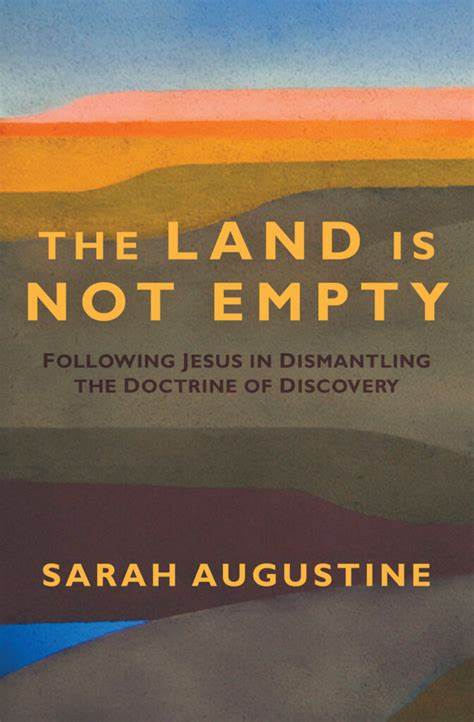 This is an organization that tracks the progress made on fulfilling the Calls to Action from the Truth and Reconciliation
This is a link to a story about Dr. Peter Bryce who in 1922 blew the whistle on atrocities of residential schools and exposed high rates of illness and deaths among Indigenous children.